Hardscape and Softscape Services
San Diego Hardscape and Softscape
The ideal landscape will feature an artful blend of hard materials such as stone, brick, and concrete and soft, organic materials such as plants, soil, flowerbeds, and sand.  These hard and soft materials should interact with and complement each other to form an outdoor space that flows and coheres into a natural extension of a home.  It should reflect the personalities and lifestyles of the people who live within the home, whether it is playful and frivolous or soothing and tranquil.
At North County Landscape, our landscaping specialists are able to integrate hardscape and softscape elements into a perfectly realized whole that brings yards, gardens, and other outdoor spaces to life.  Whether your yard needs a few simple touches to tie it together aesthetically, or you want to reimagine your outdoor living space by transforming it into a thematic masterpiece, we will provide you with precisely the results you desire.  There is no landscaping job too big or too small for the hardscape and softscape experts of North County Landscape.
This page describes just a few of the San Diego hardscape and softscape services we provide to our valued customers.  Ultimately, if you have a landscaping plan in mind, and it is humanly possible to carry it out, we are the right landscape specialists for the job. With roughly five decades of combined experience to our credit, there aren't many types of landscaping projects that the experts of North County Landscape haven't handled – and handled well.
If you would like to learn more about how we can integrate hardscape and softscape into a cohesive, functional, and stunningly beautiful landscape, please contact North County Landscape today.  We are grateful for the opportunity to serve communities throughout San Diego, including San Marcos, La Jolla, Rancho Bernardo, Carlsbad, Rancho Santa Fe, Poway, Rancho Penasquitos, Encinitas, Del Mar, and Carmel Valley.
Hardscape Services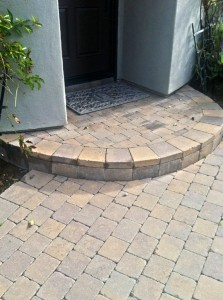 Hardscape refers to the permanent structures that are installed in outdoor spaces and crafted from hard materials such as rock, stone, brick, wood, aluminum, iron, and marble.  The San Diego hardscape specialists of North County Landscape are both artisans and artists when it comes to customizing and installing hardscape elements such as:
Fire pits
Barbeques and outdoor kitchens
Concrete patios and sidewalks
Retaining walls
Fountains
Patio covers
Vinyl fencing
Low-voltage LED lighting
Recirculating ponds and streams
Pavers
Stone benches
Arbors and gates
Terraces
If improperly designed or installed, hardscape elements such as these can disrupt the beauty of a yard or garden and even cause damage to surrounding plants and soil.  However, our hardscape experts perform a careful analysis of the outdoor space before recommending, let alone installing, any form of hardscape.  When you entrust your yard to North County Landscape, you can be assured that any element we add will blend in perfectly with the other elements of your landscape, enhancing its beauty without causing harm to your trees, plants, grass, and soil.
Softscape Services
If hardscape refers to permanent structures crafted from hard materials, then it might be useful to think of softscape as the natural, organic complements to these structures.  Softscape elements include trees, flowers, vegetation, bushes, and other living testaments to the beauty of nature.  The purposeful, aesthetically rewarding interweaving of these natural elements with the hardscape elements is the very definition of landscaping.
The addition of softscape elements requires as much meticulous planning and design work as the addition of hardscape elements.  Careful attention must be paid to the arrangement of color, shape, and texture of softscape elements in order to ensure a result that is appropriate to the landscape and pleasing to the eye.  Likewise, thought must be given to how these elements react to weather and the San Diego environment.  Some softscape elements may be seasonal while others may provide year-round enjoyment.
Because our landscape and pruning specialists have expert-level knowledge of both plants and soil, they are particularly adept at creating stunning, yet functional softscapes.  Whether you want to enliven your yard with bold swaths of color or add subtle accents to a pathway, driveway, or terrace, we can accommodate your wishes.
North County Landscape offers the full range of softscape services.  We can revive your outdoor space through the addition of:
Bark, mulch, and sand
Trees, shrubs, and other plants
Flowerbeds
Vegetable gardens
Grass and ivy
Synthetic Turf
Ultimately, your ideal yard should be unique to you.  The combination of hardscape and softscape elements should express who you are and make you feel as comfortable and serene outside of your house as you are inside.  The landscaping specialists of North County Landscape have the experience and skill to give shape to the desires and ambitions you have for your outdoor living space, whatever they may be.
To learn more about how we can transform your yard through a combination of hardscape and softscape elements, or to request your free estimate for our services, please contact North County Landscape, serving all of San Diego County, today.